WordPress powers the internet. 79% of all website are WordPress websites. That's the whole internet.
But while WordPress websites come bundled with lots of features, some core functionalities are still left out.
These gaps are why plugins exist. There are more than 44,000 WordPress plugins in the internet wilds. There are plugins for everything from opening an e-commerce store to setting up a gallery.
But we've zoned in on the plugins you can use to improve your website's user experience.
We are writing about user experience because nobody likes ugly and clunky. 38% of people stop interacting with a website that had an unattractive layout or content.
And it makes sense. Tell us, which would you drive, a battered G-wagon with a bad engine or a smooth-running Camry firing from all cylinders?
In this piece, we'll share essential plugins you can use to tune-up your blog for better UX.
1. WP Super Cache
When your website takes too long to load, people simply pack up and go. 74% of consumers will wait 5 seconds for a web page to load on their mobile device before abandoning the site. Their digital shadow to never darken your website again.
The WP Super Cache plugin caches active data on your website to reduce load times.
It's the most downloaded Cache plugin online. They must be doing something right.
WP Super Cache is especially helpful when you are on a cheap server and lots of unexpected traffic is coming in your direction.
Easy Social Share Buttons plugin allows you add social sharing buttons to your posts without slowing down your website.
The Plugin does not install additional javascript, CSS and image files that will slow down your website.
Add Social Share buttons to the top and bottom of your website. And if your website is image heavy, use the option that lets you add buttons directly on images.
Images represent up to 60% of a webpage's weight. Optimizing your images is a great idea and that's where plugin Image Recycle comes in.
Image Recycle reduces the size of images and PDFs without reducing their quality. You can optimize all the new images you upload or compress existing ones.
Increase your pageviews and reduce bounce rate by making it easier for your readers to find other content they might find interesting.
The unimaginatively named Yet Another Related Posts Plugin does a good job feeding useful related content to your website visitor, keeping them around for longer.
YARPP has a great template system that makes sure the rendering of related posts is not noisome to the user experience.
Contact Form help you designs and manage multiple contact forms for your website.
It's easy to install, easy to use and comes with Akismet spam filtering and CAPTCHA.
Seth Godin is the quintessential internet marketing guru. And he has set the standard for internet marketing by popularizing modern marketing techniques such as permission marketing. He is the author of the seminal marketing book, Purple Cow.
The What Would Seth Godin Do? plugin allows you customize the welcome messages your new visitors and old visitors see. It's nothing out of the ordinary but helps give your visitor personalized experiences that could nudge them to become a fan/subscriber more easily. It's a simple tool that can make a big difference.
The idea is rooted in Seth's thoughts on 'In The Middle, Starting".
With this plugin, you don't have to go independently to the goog to know how your website is performing. You can see right from your WP dashboard, a real-time number of visitors, your acquisition channels, traffic source details and more. This saves you oodles of time.
Simply authorize the plugin to connect with your Google Analytics and you can begin to see your update right inside WordPress.
Anyone serious about page speed needs to consider installing Smush.it.
Also, slot load-time for images turns off lots of visitors. 39% of people stop engaging with a website when the images didn't or took too long to load.
Smush.it resizes (width and height) and optimises all of your images based on your specifications.
Mobile is king in 2016 (and will remain so for a long time). So, if your website is not optimised for mobile, you are losing lots of traffic.
The WPTouch Mobile Plugin allows you optimise your website for smaller screens. It's easy-to-use and can even allow you turn your website experience into a native mobile experience.
The plugin allows you to customise many aspects of your mobile appearance, and deliver a fast, user-friendly and stylish version of your site to your mobile visitors. All that without modifying a single line of code.
Broken links are a major component in the alchemy of a bad user experience. People get disappointed when they can't find what they are looking. And don't think "this can't happen to me," because the average lifespan of a webpage if 100 days.
Save yourself the anger of disgruntled blog visitors.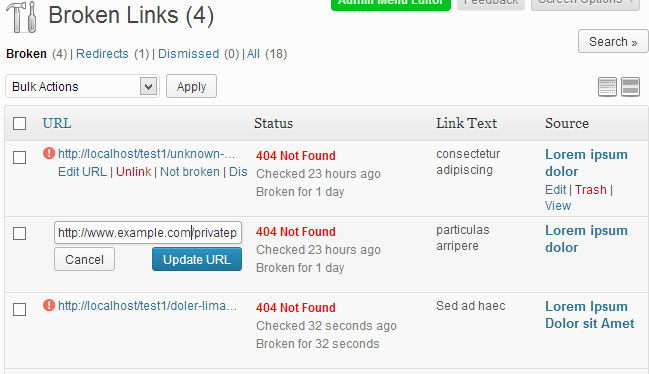 The plugin monitors your pages and reports broken links to you via regular emails.
You can fix the broken links and go on your merry way, enjoying the adulation of your adoring blog visitors.
One sure-fire way to reduce your bounce rate is when you make it easy for your visitors to participate in your blog.
BCTT plugin allows you to easily create tweetable content for your readers with a simple fully-customizable shortcode.
12. WP Live Chat Support
Also great for improving retention on your website and, if you are an e-commerce website, increase your conversion.
The WP Live Chat Support is the most popular WordPress chat plugin with a fully-customizable chat experience.
User experience shouldn't focus on the user alone, but the admin too. The editorial calendar plugin lets you easily schedule posts on your website and gives your an overview of your blog.
Easily manage your drafts, quick-edit post titles, content and more.
The website helps you A/B test the heck out of your website content. And A/B testing is a great way to improve your website traffic.
Use the plugin to create new experiments, see your experiment results, launch winners and much more all without leaving WordPress.
If you want a slider for your website to put your best works on display, but you don't want the buggy, resource-sapping kind, Soliloquy is your best option.
You don't need to write a line of code to use this plugin.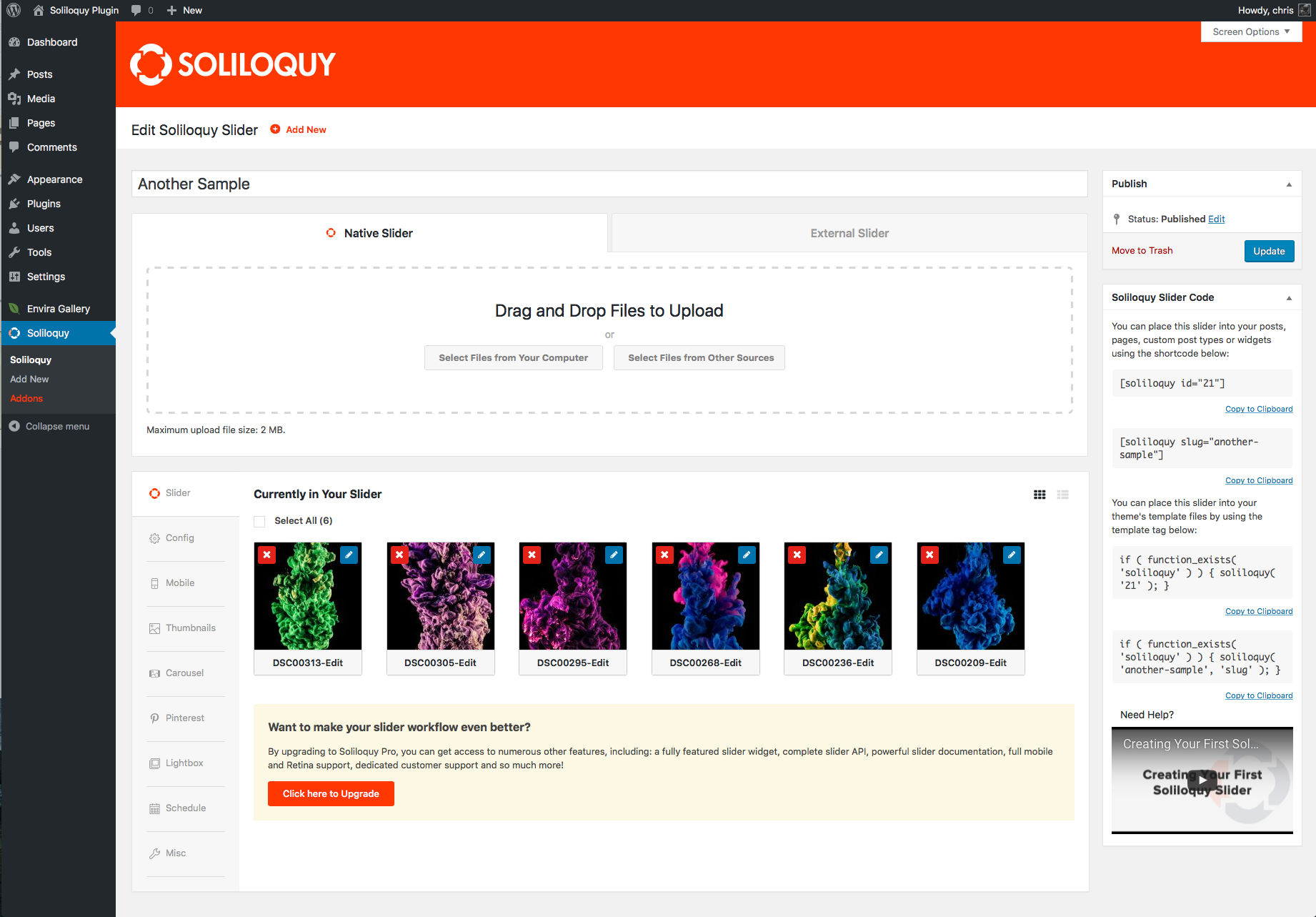 The media uploader button easily inserts your WordPress slider into your posts/pages from the WYSIWYG editor.
Yoast SEO is one of the most-complete SEO solutions for WordPress. We use it here at Starta. It has received over a million downloads.
There is really nothing more to say here than, "install Yoast if you want Google to find your website."
Honorable mentions / alternatives
Speed
17. W3 Total Cache (alternative for Super Cache)
18. WP Rocket (alternative for Super Cache)
19. Ewww Image Optimizer ((alternative for Smush.it)
Engagement
20. Contextual Related Posts (alternative for YARPP)
21. Inline Related Posts (alternative for YARPP)
22. WP Form (alternative for Contact
23. Click to Tweet (alternative for Better Click To Tweet)
Analytics
24. JetPack (alternative for Google Analytics for WP. Google Analytics can get complicated)