It's the same with everyone.
If you look up a website and you see a blurred image, you automatically assume whatever they have to offer is of low quality.
Images are visceral. They can speak richly and deeply in a split second. Mess it up and you have created a first impression you have to work extra hard to amend.
You want great images for your blog and social interactions because your ideas, your prose, your copy, your content may all be exceptional but great images will elevate them even further.
It's a foregone conclusion that eye-catching images are crucial to your website and social media strategy. Social media posts with images do better than those without.
So we bring you a valuable resource with this post. High-quality stock photos are actually available, free on the web, really. Here are 43 of them
Pixabay serves as a repository for a ton of quality photos that released under Creative Commons CC0 into the public domain. The site is clean and intuitive, making it easy to navigate your way through the 780K+ free photos, vectors, and illustrations.
The main search bar even allows you to filter your query down by factors like media type, orientation, colour, and minimum dimensions.
Ignoring the weird company name, for now, Death to the Stock Photo is a really great photo site. More than 230,000 subscribers seem to think so.
When founders and photographers, Allie and David, noticed how challenging it was for businesses, bloggers, and creatives to find free high-quality images that fit their "vibe and tribe," they stepped in.
Simply submit your email and enjoy a new batch of photos delivered to your inbox every month.
Free Images was launched in February 2001 as an alternative for expensive stock photography. The site has evolved into a massive community of creative people exchanging their photos for inspiration or work.
You'll find hundreds of thousands of high-quality, hand-picked stock photos and graphics — all free! There are currently over 2,500,000 registered users.
Picjumbo is a free stock photo site created by young designer and photographer Viktor Hanacek in 2013. Since then it has seen almost 2 million downloads. Uploaded images are suitable for your next web design, blog post or social media campaign.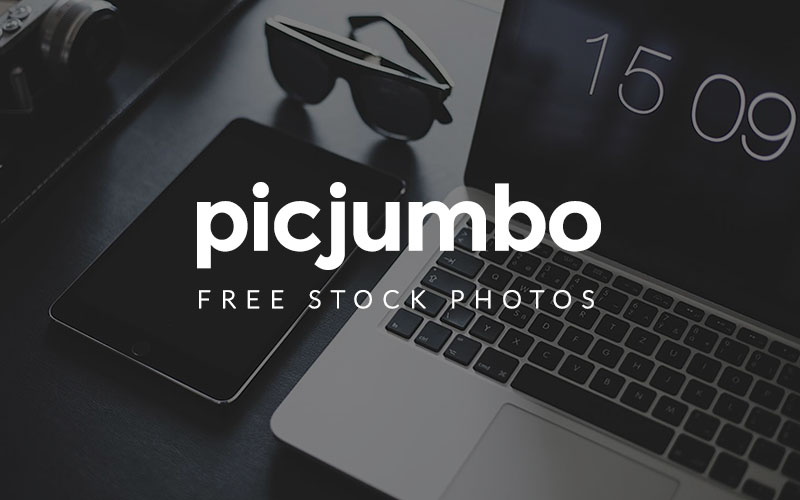 New photos are added every day and are accompanied by a relevant description. There's a category view that is helpful as well. Vicktor also offers a handy plugin for Photoshop and Sketch for just $7.99.
From fashion to food to landscapes, you'll find diverse images to fulfil your marketing needs at Kaboompics.
Karolina, a web designer from Poland, is the creative eye and mind behind this awesome resource for high-quality photos. And users have the freedom to use them for anything they'd like – commercial or not.
In the spirit of startup community building, the folks at Startup Stock Photos created this website to provide free photos for startups, bloggers, publishers, websites, designers, developers, creators and everyone else.
These are pictures the company takes on a regular basis. And now, people and organizations all over the world can use these photos to make some really awesome things.
7. Stokpic
Subscribe to Stockpic and Photographer Ed Gregory will generously serve you 10 new photos every two weeks in your inbox. All pictures can be used on your website, as part of a template, in an ad, and … well, pretty much anywhere.
You can check out his latest 100 pictures here, or browse through categories like landscapes, people, and technology until you find the perfect fit.
Little Visuals used to send subscribers 7 high-quality images nicely zipped up to their inbox every 7 days. Sadly the young man who created the site died suddenly in Nov 2013.
Since then there have been no further uploads. But you can still browse through the archives on the site to find some really amazing pictures.
Fancy Crave has two new photos uploaded daily to keep things feeling fresh. What's more remarkable about the site is not just the pristine quality of the photos but that they are free.
All the photographer asks is that you never advertise the photographs as your own, and provide attribution when and if you can.
Curious name aside, unsplash is a great resource for free high-resolution stock photos. Unsplash serves up 10 new "do whatever you want with them" photos every 10 days. Even better, you can subscribe to their site to get a fresh set of images every day.

The images are pretty unique and veer away from the more "tropey" picture shots. There pages of images to choose from here. You're free to do whatever you want with the images without permission or attribution.
Stocksnap belongs to Snappa. StockSnap.io proudly claims that it's "not your typical crappy stock photo site." They are right.
There's a really cool selection of photos, diverse and eye-catching that it's almost too easy to "fall down the rabbit hole" and come to fifty-something scrolls later.
SplitShire offers a ton of awesome free photos for you to use without restrictions. Powered by Italian photographer Daniel Nanescu, all of the images available on the website are "made with love" — and it shows.
All images you'll find on Life of Pix are "hand-made with love by Leeroy Advertising Agency in Montreal & its network of photographers." Life of Pix is home to some awesome high-resolution photos, all donated to the public domain, and are available for personal and commercial use.
Pexels adds 10 new high-quality images to its collection of free stock photos every day. These photos are carefully handpicked from a variety of free image sources to ensure that you're getting only the best of the best.
All of the photos that make the cut are under the Creative Commons Zero license, meaning that they are free for personal and commercial use with no attribution required. A search functionality also means turning up the right photo for your next project is super easy.
Everyone's favourite inbound marketing resource also has great stock images on offer.
Check out the following collections to get your fix:
With new photos added weekly, Gratisography is another awesome website serving up high-resolution photos covered under the Creative Commons Zero license.
All photos are taken by Ryan McGuire, a "whimsically creative visual artist, based in Ithaca, NY."
Photographer and SEO Consultant Martin Vorel is the creative force behind the stunning photos available on this site. From crisp architectural shots to vibrant florals, Vorel's collection of photos contains some of the most unique selections you'll come across.
ISO's Republic's mission is to "provide high-quality images to be used by designers, developers, bloggers, marketers, and social media teams." And all it takes is one quick scan of the website to know that it is succeeding in doing just that.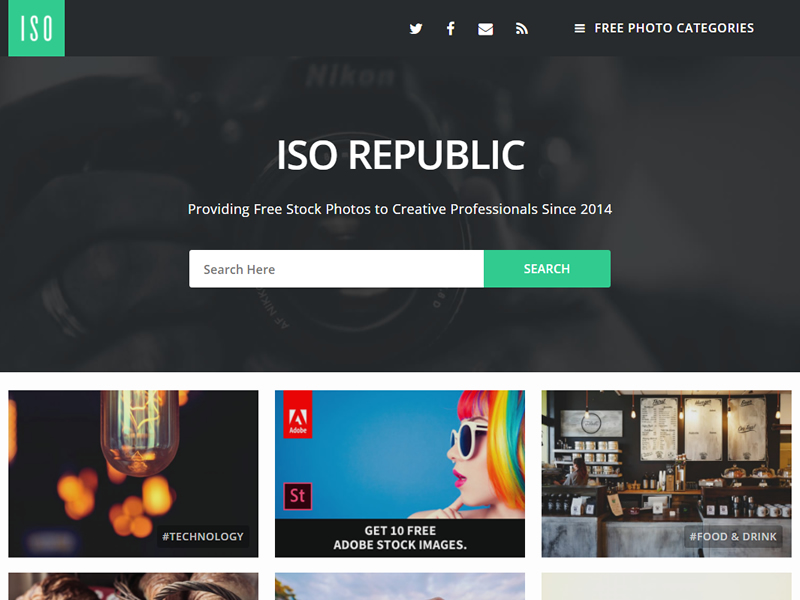 It's almost impossible to believe the images are free. Signing up with your email gives you access to even more exclusive free photos which will be mailed to you.
The Old Stock is a minimal Tumblr blog to discover old and vintage photos for your project.
The collection of vintage photos comes from the public archive via Flickr Commons. According to the website, the photos are free of any known copyright restrictions.
Whether for personal or commercial projects, all stock images are completely free to use. Negative Space offers up free and beautiful high-resolution stock photos every week.
From architecture to technology, Negative Space's continuously growing collection of images is one you'll find yourself tapping into again and again. There's also a really well-done filter process that helps you sort photos by category, copy space position, and colour.
Designer Jay Mantri has built up an impressive gallery of professional, quality images just for you and me … and everyone else. And he says on the homepage – "free pics. do anything. make magic". There's an archive link at the bottom for you to see all the pictures from past posts.
If you're on the hunt for patterns, you've come to the right place. A beautifully designed, minimalist website. Each pattern is spread like a wallpaper across the entire browser window.
You can press arrow up or down to scroll through the patterns. Options to download are available on the left and you can activate the grid view (which looks excellent as well) from the right.
According to the site's 'About Us' section, "Images provided directly (in-house) by Freerange Stock originate one of two ways. They are either digitally photographed on Canon DSLR cameras or they are a high resolution (4000 dpi) Nikon scan of an original 35mm slide.
So you know you're getting really great photos. All of the photos on the Freerange website come from a pool of both in-house photographers, as well as a growing community of external contributors.
Stock Photos is a pinterest styled website for browsing stock photos. The website has a collection of 25,000 curated stock images spread across various categories as specific as Canals, Bridges and Cafes.
Pickupimage is a large collection of free stock images mostly focusing on nature- and outdoor-related scenes that can be copied, modified and distributed — even for commercial purposes all without asking permission. No registration necessary!
FreeMediaGoo offers royalty-free, cost-free media that can be used in print, film, TV, the internet or any other type of media both for commercial and personal use. There's no login required
Rgbstock is a free stock image site created by a group of enthusiastic photographers and graphic artists. Registration (required) is one-click and the pool of photos is pretty deep. The site is run by a diverse group of professionals spread all over the world.
Free Photos Bank has a nice collection of free photos available for download without login. They're extensively categorized with a few different ways to search, too.
Compfight is a Flickr image search engine that uses the Flickr API to locate images based on your license needs.
Every Stock Photo is not a stock photo website in itself but is a search engine and it's a pretty powerful one. Since 2006, it has proved itself a capable license-specific photo search engine. It currently indexes and searches millions of freely licensed photos, from many sources, and presents them in an integrated search.
When you search, it lists out the licensing details front and centre so there is no confusion later on. Handy.
If you are into abstract photos, Epicantus is your best bet. They are quite pretty and make for great content backdrops. Epicantus was created by Visual & UX designer, Daria.
Her aim was to put together a collection of photos that anyone can download and use in their projects. And the plus! Every photo is high quality and free.
IM Free is from the creators of IM Creator. It is a curated collection of high-quality images that have been broken down into distinct categories such as Business, Food & Drink, Health and Technology. If you have a thing for icons, they've also got free icon sets for your use.
All you have to do for these gorgeous photos is to offer attribution which is a small cost for top-notch professional and completely free photographs
There's one reason why Morgufile is really loved. It's got a bit of everything!. What this means is it is a sizeable, searchable and well very useful library of freephotos..
It is a very great companion for any blogger or website that needs really high-quality pictures. The interesting part is you are free to use these images any way you want but just like IM Free, you have to attribute the photographer.
FreeImages has got one thing right. It is filled with completely free photographs. Like some of the websites mentioned above, attribution is sometimes required depending on which of the images you have selected.
FreeImages has got almost 25k photos for you to choose from just in the Army & Weapons Category which is quite a lot! It is definitely worth a bookmark.
Picography's website header has already explained what it is exactly what they do. "Free high-resolution photos. Use them however you like."
That's a prime deal right? It's a simple but completely powerful collection of random photographs with every single one of them professionally taken.
If you are after some much-needed inspiration as opposed to something specific this might be the site for you.
While GetRefe has no search feature, it's got a pretty decent collection of high-quality photographs that can be used for almost anything you want to.
Although some might argue it includes some stock-like photos, it is one of the strongest contenders for landscape and travel shots. So if you have a travel blog, you should check this out.
If you are into some classic arts, this one is for you. Dutch Artist, Folkert Gorter has put together a website that supplies a stunning collection of photos only they look more like paintings for you to use on your blog, website social media platforms or any other way you can think of.
All Folkert asks for in return is attribution which is quite fair.
With PDA you've got three categories. Modern Images, Vintage Images and Weekly Images. And just like GetRefe it has no search feature too. But the pictures are of top quality and lean towards being artistic in style.
Just as the name says, all photographs on the website are within the public domain which gives you the right to use them as you wish.
Unlike some of the sites listed above, Freestocks does not even require attribution. All you have to do is search the good mi of categories for the picture you want, download and use whichever way you want to. Quite simple right?
This one is a bit different. At Snapwire, you can request for custom photographs. They offer 7 free pics every 7 days.
The good part of this is that the images are always high-quality, and professional looking. As expected, they are free for you to use whichever way you want.
If you are looking for a good mix of standard, high-quality stock photos and the more abstract kinds, you have come to the right place. Tookapic just like the name suggests sticks high-quality photos taken by real people.
Although some of the photos fall under the premium plan, there is also a vast collection of free images you can choose from.
Just like SuperFamous, this is another generous offer by a photographer. Jeffrey Betts offers up his work to be used for free without constraints of copyright.
You can use these photographs on your website, themes, templates, projects, print materials, social posts, and more. Plus there are new photos up on the website each week.
To properly describe Burst, it can be referred to as a free photography website for entrepreneurs. The free image website was created by Shopify (a site for creating your own online store) to help owners of online stores get some high-quality product and lifestyle pictures for free.