Here's a little fact no marketer should ignore…Quora gets a lot of love from Google!
It's so insane that the eyeballs glaze over it and take it as the norm. So we'll try a little exercise. Type a search term in Google. Anything all.
For us, we'll try "when should I sell my business?"
As shown in the screenshot below, we have an answer from Quora on the first page!
One site that keeps popping up no matter how many times you hit the Google search button is Quora.
So as a marketer, if you are looking to dominate a social platform, generate thousands of leads and build a huge following in only a few months, you should turn to Quora.
So we'll take it from the beginning.
What is Quora?
Quora's premise is pretty simple. Users ask questions and Users answer the questions. And the community votes on which answers are the most helpful.
Another pretty cool factor is that you can have the ex-president of the United States to answer your question. This user asked "What's it like to play basketball with President Obama?" and Barack Obama answered him!
Also, away from the simple question and answer, there are some advanced aspects of Quora you should be aware of before you decided to start using it:
Users can target questions to specific Quora users

Just like LinkedIn, you can publish content on Quora too

There's a search button so users can search for specific topics

Quora has credits which users can use

to get questions in front of more people.
Why should marketers use Quora?
Because it works.
When Josh Fetcher an entrepreneur started out, he spent four months building 7,000 followers in Quora. It earned him 2k new members to his Facebook Group and 3k leads to his email list. Josh currently has 39,000 followers with 14 million content views in total. Josh says he wrote over 600 answers to get that number.
Marketing guru Neil Patel also credits Quora for bringing in quality referral traffic and countless leads.
As of September 2018, Quora had 300 million monthly users an increase from the 200 million reported in 2017.
Though it's nowhere as big as Twitter, Facebook or Instagram, the numbers are significant.
However, you should note that you cannot just throw random answers to questions and expect results. This is just like any other marketing tactic you would try.
You have to follow a process.
You should also know, it would take some time before you start to see the results. The most important thing here is consistency.
Below, we'll share with you some tips to help you acquire qualified leads on Quora.
Spruce up your profile
Seriously, you want to pimp your profile.
Here's why. Every time you leave an answer, a bit of your bio can be seen. This is a great branding opportunity for you.
So above each answer, Quora shows the first 50 characters of your profile. This is your name and bio.
Below are examples of really great bios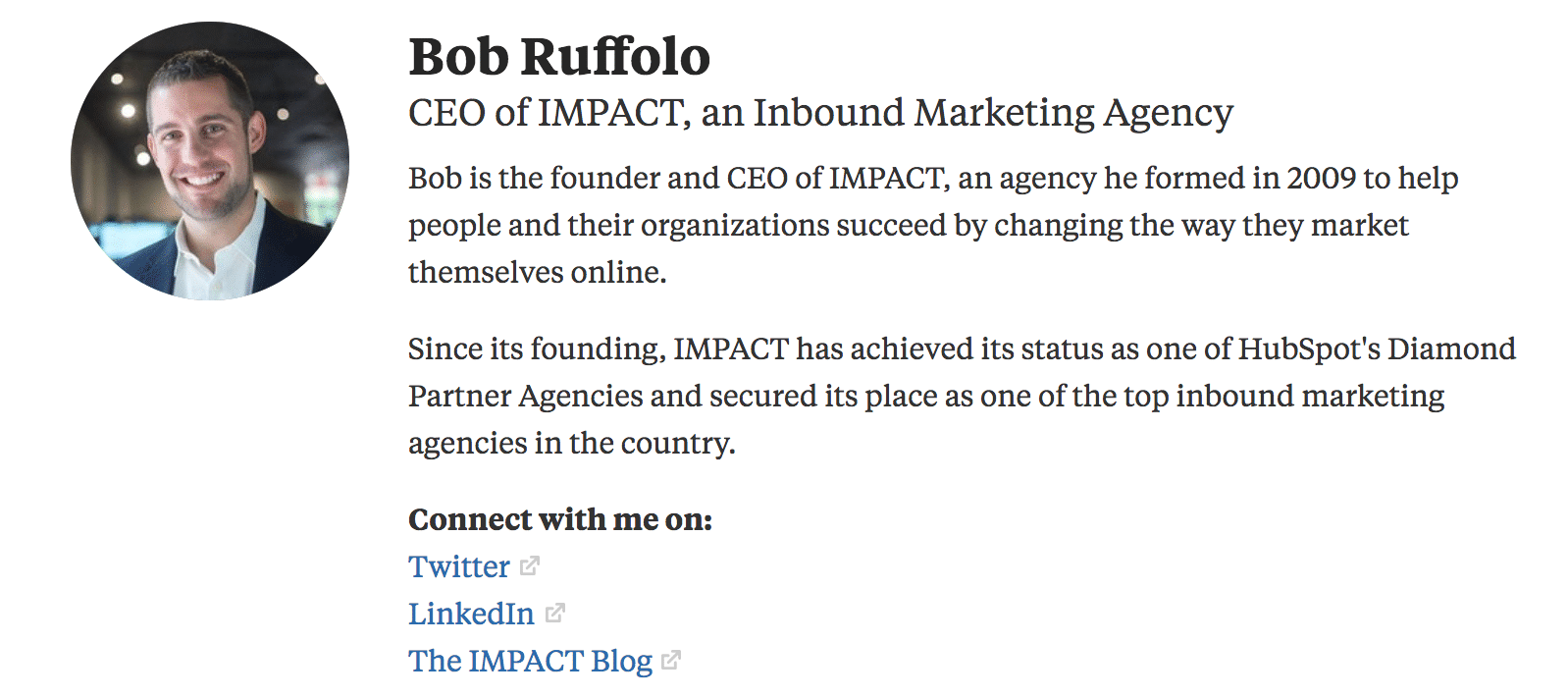 Essentially, you want it to drip with awesomeness. Ready? Follow tips below:
Get a clean headshot for your professional image

Mention your brand name as close to the beginning as you can

Provide adequate information in your "credentials and highlights" session

Provide a thorough explanation of your bio

Customize your "knows about" section. This especially useful if you want to respond to topics and questions that you understand in and out. To do this, click on your profile page, in the right column, there's a list of "Knows About" topics. Next to each topic is a link for you to "describe your experience".

Also, do not forget to connect your other social media accounts.
Doing all of this ensures that whenever your answers appear in users' feeds, they'll know immediately if you are a growth marketer or a CEO. This way, they will automatically associate value with your answer and brand – leading them to seek more information about it.
You should also note that you can include links in your profiles. Just take care not to overdo it.
Make your answers too good to be ignored
On Quora, there are no shortcuts. There's nowhere to hide really.
The only way to create the buzz you are looking for is to provide helpful answers and exceed expectations while you are at it.
The best posts on Quora include personal stories, superb advice or just humour. For instance, Neil Patel, marketing guru seized an opportunity to answer a question with a full blog post!
In the image below was the question asked, some answers that were given by two Quora users and Neil Patel's answer.
See Competing answers below:
Second:
And here, is Neil Patel's answer
After reading his answer, are you willing to bet the person who asked the question checked Neil Patel out?
And the great thing? You will never lack for what to write. There is material everywhere!
Remember to also pay attention to how you answer your questions. Check out Dushka Zapata for inspiration on how to create emotion-evoking content that gets you traffic. Dushka has over 197,000 followers on Quora.
Pay attention to the following before you churn out your next answers:
Don't disregard emotions. They are useful in connecting to your audience

Optimize for mobile. We can't stress this enough! Long paragraphs are not advisable, stick to two sentences per paragraph at the maximum.

Make your writing tight. Remove extra words like "that", "really" etc

Italicize your questions…they just seem to work

Bolden your important statements/first sentence

Use images when answering questions. According to Skyword, there's a

94 per cent increase

in views if a published article contained a relevant photograph or infographic.

Always end your answers with a positive call to action.
If we are being honest, it is time-consuming and demands a lot of effort from you. But it's really worth it. (See what we did there? Remove the "really", read the sentence and it still makes sense!)
Find and answer the right questions
Since you'll be investing considerable time and energy into answering questions, you want to make sure you are answering the good questions.
So how do you find good questions on Quora? We'll run through four super-efficient methods.
Use the Quora Ad platform: It's a bit difficult to measure the traffic you can expect to generate by answering a question. But with the help of the platform, things can be easier.
First, you should create a Quora ad account, you can do so here. The next step is to set up a dummy campaign.
Next, when you get to the targeting section of your campaign, select the "Topic Targeting" option from the "Primary Targeting" tab. See image below

From here, enter a list of keywords in the dialogue box and you will be shown a list of questions asked on Quora along with their average weekly views.
Use the "Answer" button from your dashboard: When you click on this button, Quora will curate the top questions for you, taking into consideration your knowledge and areas of expertise.
This option provides you with tons of questions you can answer. Another way is to simply search for your topic directly and you'll get a prompt with a list of questions you can choose from. This method is quite straightforward.
Track topics with notifications: You can learn about what people are asking about in your industry and you can have this delivered to your inbox daily.
You can also search for users to follow and be notified of their newest answers.
You can do this for both questions and Quora users. For blog posts, once you type in the search button as explained above, you get an auto list of questions suggestions and when you click on a topic, right on that page, there's an extra list of related topics you can follow on the side.
For blog posts and author, simply search for the author's name, and click to follow the blog. That way you can receive updates for every post.
To be doubly sure, go to your settings page, click on Email & Notifications and then adjust the frequency of specific emails you want to receive from Quora.
PS: A question with poorly written answers makes you stand out. Refer back to the Neil Patel example above.
Track and analyze the key metrics
Quora free analytics breaks down the following for you:
Views

Upvotes

Comments

Shares
They also display stats for these categories:
The questions you ask

The answers you give

The blog posts you write

All the content you contribute
Crazy egg gives a detailed explanation of your "views" as shown below:
>>>insert image
Upvote is a way for readers to tell Quora that your answer is good and that Quora needs to show more people. High views and upvotes mean you are doing something well, so keep at it.
As we hope we have demonstrated Quora is far more than a platform to simply write on.
It is a great place to build an engaged community of people around your area of focus and to establish your thought leadership as well.
It is a lot of work, but the long-term brand equity is really worth it.
Have you acquired users on Quora? Share with us in the comment section
Feature image via Theverge.com