Facebook hit the headlines when it said it was running out of advertising space in the News Feed.
Sounds crazy!
Facebook's newsfeed was supposed to be infinite. But now? it is getting clogged up. Fast.
So here's a warning, right off the bat. Don't buy fans.
Don't.
Facebook recently passed 2billion users. That is huge! It's presented you with what businesses never had…the means to have a relationship directly with so many people on ONE platform!
But it's also a cause for headache. There are simply too many people pushing out content. It's hard to get heard. More and more brands struggle to get and sustain attention.
Marketers realize that now more than ever is when they need relevant and interactive content that supersedes the noise.
Enter…a Facebook contest.
Yes, we realize contests are the oldest trick in the book. But they work! To support this, you may have taken part in a Facebook contest yourself and that's one thing to consider. There are numerous contests rolled out every day, but if you can think of one contest you participated in, there has to be a reason you did.
There are very valid reasons to consider running a Facebook contest. Although we'll state that the contest should be just one tactic in your overall marketing strategy.
Facebook contests are easy to executive and relatively inexpensive to run.
A well thought out Facebook contest can:
Boost engagement with your existing fans

Widen your reach and brand exposure

Get new leads
Creating a contest that actually works
Before you do anything at all, there are some basic questions you need very definite answers to.
The Why: Why are you doing this? What are you trying to achieve with this contest?
Who: Who do you want to engage with? What sort of people do you want to be involved in your contest?
How: What is your plan for executing this contest flawlessly? Because anything short of flawless is not acceptable.
Measure: What metrics matter to you? And how do you intend to measure them?
We'll explain the four major points above, and then go on to give you examples of Facebook contests you can run. Ready?
A. Why are you running a Facebook contest?
Defining your primary goal determines how you measure your contest's results. There are numerous goals you can go after, but more most brands it's either:
Brand exposure or

Lead generation
Brand exposure:
For every brand on Facebook, the dream is to go viral. To share content that catches people's attention causing them to reshare it without any prompt from you.
As a marketer, this is great! You get to reach people outside of your regular fan base and it's for free. People literally do the work for you.
So how do you tip the scales in your favour? Simple. Use what already works.
Facebook is big on pictures and videos especially the family-oriented ones. Therefore, if you are looking for rapid firebrand awareness, you should consider UGC.
User-generated content is super effective and has been estimated to generate 6.9x more engagement than brand content.
What are we saying? Family and friend oriented content works. Use it.
Example: The Great Eggo Waffle Off!
Eggo, a brand of frozen waffles owned by the Kellogg Company, hosted a two-part Facebook content. It began with a recipe contest, entrants were asked to submit their best waffle recipes. The second part of the contest is fans voting for their favourite recipe.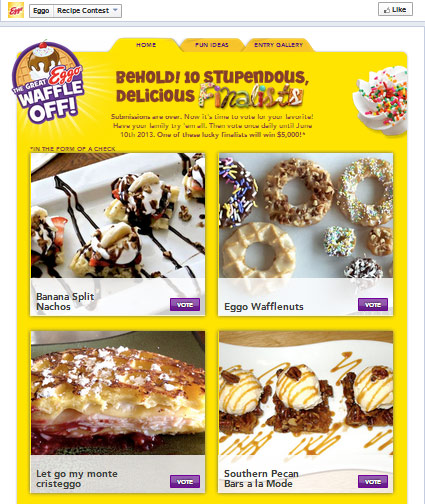 Not only does Eggo get lots of photos of their product for their Facebook site, but with the addition of a voting element, Kellog's further extends its branding opportunity by asking the voters to share the voting with their friends.
Lead generation:
This is possibly the most common use for contests. You get people to enter their contact information for the chance of winning a prize.
Afterwards, you can contact them again when you are ready to establish an email community or even to sell to them.
In this case, don't put too many steps between them and the data collection. Already people are wary of giving out their information, do not give them the excuse to tuck tail and go the other way.
You should also know that at this point what you are giving away has to be really worth it. Don't overdo it though, make sure it's something you are comfortable giving away.
Example: Sweet 15 Sephora
Sephora is a pretty big deal, so that's a plus for them there.
The Sweet 15 Sephora celebrated 15 years of a fashion partnership. They ran the contest on their Facebook Page, asking that entrants must complete an entry form for a chance to win.
The prize was worth it too.
They gave away a five-day all-inclusive trip to Costa Rica, plus a year's worth of their Surf product. To their fashion-conscious hip consumer, this was a no-brainer, you just had to contest.
B. Who do you want to engage with?
We understand the appeal of casting a wide net, but will it work for you? Here's something to keep in mind, marketing to everyone is almost the same as marketing to no one.
There are so many people on Facebook and it's up to you to find out who your product and contest will speak to. Targeting certain demographics will give your contest higher quality entries.
When you pay attention to your market, you can run more than one contest targeting different groups. And you optimize for whichever performs best.
C. How do you intend to execute?
At this stage, you have most things on the lockdown. You have defined your target, you know who you want to reach, what you are giving away and what you want to achieve.
The next question is how do you intend to execute? There are two major precedents here:
Get a third-party app: This is usually the go-to option. It's simple, fast and stress-free. There are many Facebook apps specifically for running contests, because it is simply more cost-effective to pay for an app than to have one developed for you.
Another benefit of this is these apps can help you fill in your legal terms as well as optimize the length of your contest.
Example: Wishpond
Wishpond makes is easy for a business to create social contests and promotions, without IT. They teamed up with design-platform Snappa and both companies offered a year of their complimentary services.
A year of Snappa and a year of Wishpond's Pro Plan – total value was about $2000 and of course, they used the Wishpond app.
Do it alone:

If you are doing the regular brand awareness contest on Facebook, you may not necessarily require the help of third-party apps.
What you need to do is invest in a solid design person that will produce attractive creatives every day to stimulate participation. This is very manual.
UGC contests make it even simpler for you. You can post the most interesting entries on your page to encourage more participants.
D. How do you measure your result?
There are a few blanket measurement ideas you can try
Response rate: Simply put, what is the ratio of the participants in your contest versus the total number of people who see your contest on Facebook? If the number is too low, then there's something wrong somewhere. It could be the steps are too complicated, or you are asking for too much.
Try to reduce the steps, and make it less complicated.
Reach: Are people seeing your contest? Are the right people seeing your contest? If you did not boost the contest with paid ads, now might be the time to give it a try.
If you have been running ads and the results are not up to par, then look at the ad targeting again, tweak it and run. Keep tweaking and optimizing till you get the result you are looking for.
Conclusion
Running a successful Facebook contest for your business will not happen by luck. You have to plan and promote it carefully.
Done right, they can be a great tactic in addition to your marketing strategy.